SCOTLAND'S GOLF COAST – ITINERARY 3
We know that organising a golf holiday can be time-consuming, awkward, and complicated. The choice of golf courses, when to play them, in what order, which accommodation, when are the deposits due, how do we get to the golf course, the list is endless. This is the third of three articles featuring our three Member accommodation providers who have taken away the hassle and saved you time by creating a selection of fantastic golf itineraries.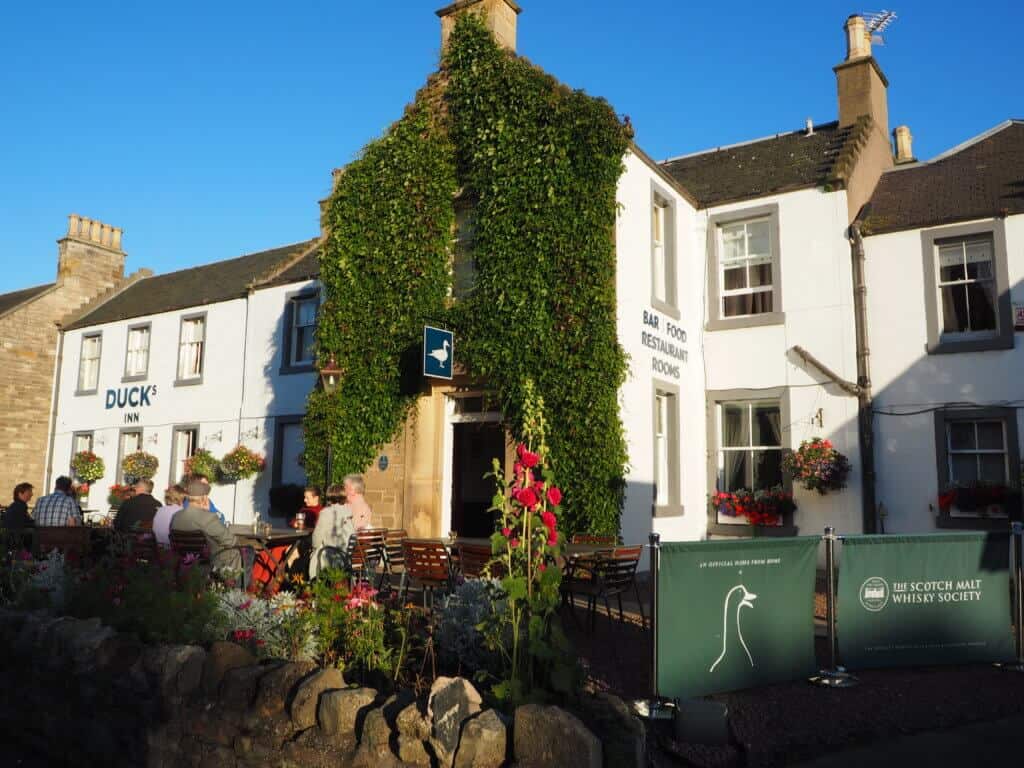 Who is coming to Scotland's Golf Coast?
Four members of a golf club in the south-east of England. They have been playing golf together for thirty years and go away each year for good golf and plenty of laughs. They usually head to sunnier climes but having heard about the brilliance of Scotland's Golf Coast and its ease of access, they thought they should give links golf a try. They love golf history, local produce and a good pint of ale.
Where to stay?

Reasons for Duck's
Fantastic food and drink
2 AA Rossette fine-dining
Cigars and whisky in abundance
A hotel full of charm and character
The ideal central location for all the courses and a trip into Edinburgh
Walls bedecked in golf memorabilia
East Lothian's resident golf expert on hand, Malcolm Duck
Day 1
This year, the four golfers have decided to put the clubs in the boot and head up to Scotland by car. Their journey has taken in a number of well-known English golf courses and some hidden gems, but the final goal is Scotland's Golf Coast.
Heading along the coast from Berwick upon Tweed towards East Lothian, the first port of call is Dunbar. Dunbar is a golf course which has been on our golfers' bucket-list for a while, and the 1856 links classic does not disappoint.
With views of the North Sea, Bass Rock and Isle of May, the course offers the perfect opportunity to test their links skills. There is even a small window to stop at Tantallon Castle before heading through North Berwick to Aberlady.
The welcoming and comfortable Duck's Inn awaits and our group enjoy a well-earned local ale, before relaxing with a sumptuous meal and a recommended whisky. Owner, Malcolm Duck, is on hand with barstool putting making their arrival in East Lothian unforgettable.

Day 2
Fortunately, a later tee time means a little lie-in. The short journey to Craigielaw for round two also provides time to blow the cobwebs away. A hearty breakfast, the two-minute drive to Craigielaw and a warm-up on the grass driving range is the perfect preparation.
The views across to Edinburgh and Aberlady Bay are tremendous and the venue of the 2018 and 2019 Scottish Senior Open is a fair and fun links challenge. Our golfers are even able to pop their heads over the stone wall and see what lies in wait for them tomorrow, with Kilspindie nestling directly between Craigielaw and the Forth.
As the golfers head to the 18th green, The Lodge at Craigielaw and its restaurant perch above the course promising a wholesome lunch of local fair. Following a couple of pints and tales of birdie celebration and bogey woe, the 6-hole par 3 course at Craigielaw is a short walk away for plenty of laughs and jokes. Fortunately, Duck's is a 2-iron away for an afternoon snooze.
Gullane is a short drive from Malcolm's, so our fourball decide to head to one of the local restaurants to stretch their legs along Gullane High Street and to see the sun set over Gullane Hill.

Day 3
Day three promises to be a busy one. Our intrepid golfers are history buffs, so it is with great excitement that Musselburgh Links is in the morning's schedule. Malcolm is a hickory expert, so with words of advice and a small hickory lesson, our fourball follows in the footsteps of Willie Park Jr.
Musselburgh Links, six-time Open venue, is such a unique experience and one that will truly take you back to the origins of the game we love. A pure 9-hole links test on solid and true links turf, bunkers crafted by time and design shaped by Mother Nature.
The clubs are in the back of the car, so after photo opportunities aplenty, another historic masterpiece awaits. Kilspindie's atmospheric clubhouse serves up culinary delights and the par 3 opener gives you a taste of what's to come. The course has changed little over the past 125 years and although slightly shorter, the character, elements and challenge make for a hidden gem classic.
It's the final night. Dinner was so good the first night and an early start on the cards in the morning, make Duck's fine-dining a welcome option. That barstool putting competition has to be mastered, but after a bottle or two of red, it's not made any easier.
Day 4
The final day in East Lothian before heading back down the road.
Chatting over dinner the night before, it was decided that with 21 courses to play and all within easy reach of each other, the group will head back to Scotland's Golf Coast for more links excitement. Their fourth course will be Gullane No3. A great value and fun 18 holes, followed by an early lunch in the new Visitor's Clubhouse, then easy access to the A1 for the return journey.
Willie Park Jr. is to thank for this true and creative links layout and with so much golf history in the region, there is a story to tell at every turn. The promise of a return to East Lothian and more fantastic golf itineraries fills the car with stories. Four courses have been ticked off, but for the four golf friends, the friendly debate about which four they will tick off next time helps pass the time to their next stop.